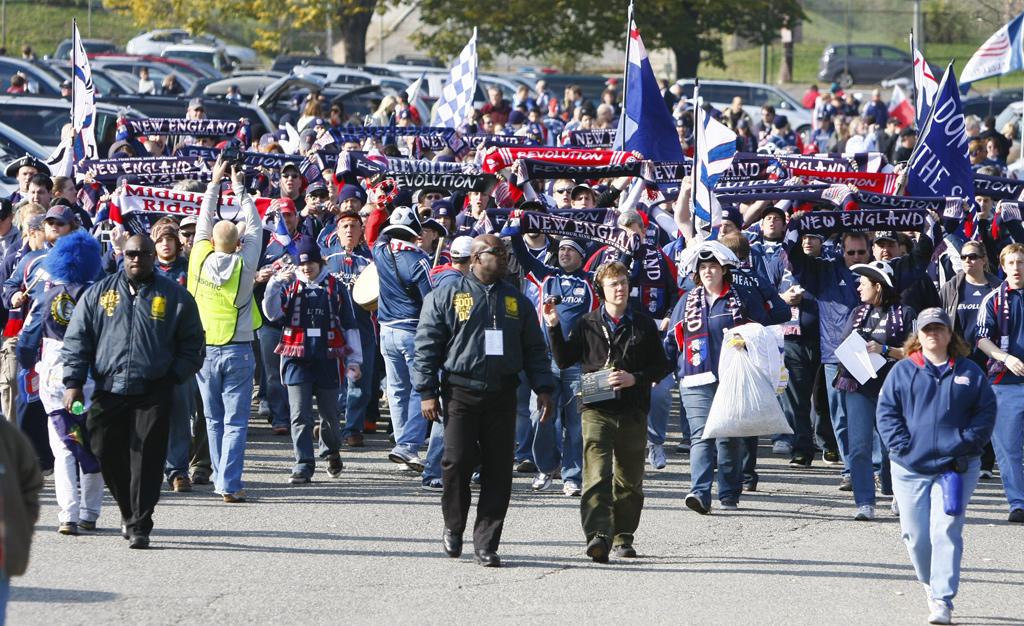 As I was flying home from D.C. last night with a fellow rider, I was asking myself some questions about this team.

After the initial, selfish, "Who are you to make my $400 investment a loss?!" question and the inevitable, "How can you keep on making yourself feel this bad?" question, I realized that there are quite a few things on the horizon for our beloved yet slightly aimless team.


Let's start off with the negatives, it's easier when we all feel bad:


After scoring to make it 1-nil, our coach decided to go defensive, something that hasn't worked in the past and will never work if you want to win championships. Three goals from four postseason games? That is not playing to win.
Michael Parkhurst to Fulham. As an Arsenal fan, I could care less because we will still beat them any day of the week but as a Revs fan I would be devastated by this loss. Parky brings so much cohesion and balance to the back that it would be killer if we lost him. Hopefully it is just a rumor.
Paul Mariner. Frankie D said in the Globe this morning that he may be off to Red Bull to fill their coaching void. Again, devastating.

Steve Nicol. Now, do not get me wrong, he is the best coach in MLS, the best coach I've seen for the Revs and the best chance for us to be successful in the league. I do think that a change in mindset is required. No back on this team (except for Parkhurst, if he's still on the roster) can play like he and the Liverpool back four did in the 80's. Period. The way we are going to win games is if we push our team forward, fill the box and play the game with attacking spirit. This loss illustrates that resting the weight of victory on our backs and defensive mids almost guarantees a collapse.
Jimmy Eat World.

Philadelphia. What bastards they are. The Sons of Ben showed up and, in our section, cheered for Dynamo to win it. Cheered their non-existent team on. Cheered and cheered against us. And then pelted us with bottles, cans, flags, and other assorted hard goods. If they are allowed in the league they would quite easily be my most hated supporter's group (if you want to call a bunch of classless hooligans without a team a supporter's group). I will personally never forget what they did and how they acted.
The Texan Army. You want to fly the American flag upside-down, go home. Bastards.
So, a whole bunch of negatives. Who needs a drink?
There were, however, plenty of positives to take from the game:
What a great game. Honestly, I think that if MLS had to deal with another Revolution overtime game in it's premier competition, we would have lost a lot of fans. It sucks that we lost, but I can't tell you how awesome it is that the game was a classic.

Great presentation. If you're going to hold a final, take notes, because they did it right this year. Everywhere we went in RFK, it was well-organized, well-thought and -planned out, and it was just a really fun experience.
The March. Epic. Absolutely epic. A good 400-500 people marching in, screaming and singing at the top of their lungs. The priceless images I remember were when we crossed the street with about a quarter mile of traffic backed up and people goggling at us as we passed. The other one was when we were going in our side and marching past the thousands of passive supporters who were noticeably stunned at our group. Epic.
I shook Don Garber's hand, and passed him a Revolution song sheet so he could sing along with us. I think I may have called him Steve. Damn Magic Hat.

Bobby Kraft. Way to turn a complete U about how he's handling this team. Out of nowhere, he scrubs Gillette for our playoff games, he pays for 200 people to go enjoy the game and then shows up wearing a Rider's scarf. What a great guy.
For the first time I felt like I was part of something huge. Sitting next to Connie and all the visiting TFC fans (who are pure class, great people, I love Canada now), they were loving the atmosphere. There were FC Dallas guys with us. Crew supporters. Basically, everyone we don't hate was there with us, supporting us.

Kind of a spin-off of the last bullet point, I just had the funny feeling that during the course of the season, MLS grew and matured massively. Great players play in this league, great fans come out to see games that their teams have nothing to do with, and it just felt so much bigger than before. This cup had the largest attendance since 2002 at home, which says a lot because both teams were at the very least a very long car trip and hotel stay away. 40,000 in a cup final at a neutral site? I'll take it.
The train into D.C. post-game. Packed full with Revo fans, people at the stops couldn't board. It was like a massive, shame-filled, tear-greased sardine can. Awesome.
THE POPULARITY OF THE GAME THAT SEEMS TO HAVE COME OUT OF NOWHERE. I was in BWI for a good six hours before getting on my flight home and man, it was sweet. Everyone seemed to know what my shirt was about, everyone knew the score, I got a good deal of "Bad luck, eh?"'s and a few "We'll take them next year!"'s. I was stunned.

Ricardo, Anthony and Jiminez, three Dynamo fans who I was hanging out with in the airport. Really good people, we had a few laughs about our teams and it was as civil as I could have imagined a meeting like that going down. Hope more like them populate Texan Army someday.

And that's it, really. Another season ended with a loss, which is becoming almost as routine as the Fire's season ending at Gillette. What can you do? You can write angry letters, read Steve Ralston's post game comments with a you-deserve-to-feel-like-this smirk on your face, or you can hang back and say there's always next year. The offseason begins now, and I fully expect that Bob being at the game and feeling our pain will make sure that a lot of money and time and care goes into rebuilding this team. It seems like this is going to be the year that a few people are going to jump ship out of grief or frustration, and good players will be given deals that we can't meet. I do hope that the front office takes a little time to make the little moves that will help this team to win. We are good, we just need a new mentality and a few new players to replace the holes.
Here are some keys I am looking at for the offseason:
Khano had a very solid postseason and a fantastic game. I do not expect him to get replaced.
I see a DP move, possibly a #10 CAM but more likely a defender, because

I see Parkhurst bidding farewell.
I think Nicol will stay on and I think that Mariner will leave to establish himself as a head coach, whether it be at Red Bull or somewhere else (hopefully Seattle, which would be a nice place for him and his last name).
Wells Thompson will be our right winger next season, possibly splitting time with Ralston if he becomes ineffective. Wells had a great season and it is tough to remember that it was his first professional year.
Depending on offseason moves, I suspect that an interleague trade involving Dorman will be in the cards. Andy has flashes of brilliance, but as long as Nicol remains head I think that his ineffectiveness last season will end his Revolution career.
Shalrie Joseph will stay in town.
Apparently the Revs have opened up lines of communication between them and a notable supporter's group. I want flags, smoke bombs and confetti. That is what I want for the Fort next year.
Who knows what will happen next year, but I suspect that the FO will work hard this offseason. I think that the league's growth this year has been incredible and I think that it will show in Kraft's bank account. That will show up on the pitch in some way, and we may have a cup-winner next year.
Bottom line. We make home in Boston. I'm not throwing myself off of a bridge, I'm too used to this feeling. We lost, in full time, we're done, the season is over. Moving right along.
Me and Chowda will try to get you all the news from the offseason. I think everyone owes Jimmy a whole lot of thanks for his devotion this season, and here's to next year!
Talk to you all later.