Well, Fantasy Soccer Bootroom will have to be put on the backburner until the MFLS site gets back online. That bugs me because I had a glorious week bagging over 40 points. In the meantime, I'm going to continue the series on possible stadium ideas for the Revs. I haven't neglected this project. Rather, I'm almost finished with the draft of what a move to Boston would mean, but I have quite a bit of research to do to complete it. This installment will focus on a move very similar to what a few teams have already done.

Two of the three recent soccer specific stadiums built by existing MLS teams has involved moving the team further from their city center to a more rural location. The Dallas Burn, now FC Dallas, were the first to take this step whenthey built Pizza Hut Park in Frisco Texas.




Most recently, the Colorado Rapids moves to Commerce City, a short freeway drive from Denver.




Both projects involve a large number of playing fields to hold youth tournaments. Both projects are dependent upon concert revenue. Both projects were made possible by significant investment from local municipalities. All three of those factors are deeply embedded in their business plans, and all three would need to be present to lure the Revs from Foxboro to another area not readily serviced by public transportation. The problem is, all three of those factors could face problems in New England, depending on where it would be built.

Before going forward, I'm discussing any municipality not in the Boston region here. Southern NH, Connecticut, RI, Worcester, ect... Basically any place in New England that could step up and make something like this happen. OK, back to semantics:

Mass Youth Soccer is currently moving ahead with their field of dreams in the northern Massachusetts town of Lancaster. Any attempt to construct a similar project which might lure away their only lifeblood would be met with serious opposition. Now, that might be a blessing in that there would be no pressure to build a colossally huge facility to host regional tournaments. Rather, a handful of youth fields and one or two top fields for the Revs to practice on might be enough, and would be less expensive. If a complex were built in Southern Mass, RI, or Connecticut, maybe a Frisco-like facility could be built to lure regional tournaments, but the Mass Youth Soccer project is still a specter which could haunt such a project.

As for concerts, the New England weather makes it nearly impossible to host outdoor concerts for at least five months out of the year. Any venue that relies on concerts would need to be built far enough away from the Tweeter Center in Mansfield, MA. There are also smaller venues scattered around the region. The powers that be who control or benefit from the revenues at those facilities would present strong opposition to anyone else cutting into their jack.

The biggest obstacle would be getting public financing for such a project. You would figure that many local townships would be flush with money after the rapid rise in real estate prices and subsequent property tax collection over the last decade. However, that's not the case for most of the municipalities. Couple some free spending policies with the aging baby boomers who will want to be taken care of in the near future, and most cities and towns in New England are less than anxious to even donate land for a stadium, much less be partners in one. There's also the town meeting process still employed by a fair chunk of towns that will rule all of them out.

Stadium Style

With all those obstacles, there is still the chance that one city or town would respond favorably to the "inquiries of interest" that Kraft sent out last year. Here are some of the features that I would like to see in such a stadium:

Something that I feel is an investment that would pay for itself in the long run is a roof that would cover most, if not all of the seats. Soccer is played is all weather. The American fan does not show up en mass during rainstorms. If they were guaranteed to stay dry, they would. This means a much larger walk-up crowd and more revenue from concessions. Crowds are also much louder with a roof to trap noise which makes the atmosphere much better.

The problem with a roof is that it's expensive. It also makes upgrading the stadium much harder and building an easy route for concert setup expensive. I think I have the answer for that: build a three sided stadium.

There are a few ways to go about a horseshoe stadium. I wouldn't like to see a permanently installed stage like at Frico or Bridgeview because it would limit flexibility. What I would like to see is a stand setup similar to Paetec Park in Rochester:




The big difference, other than the roof, is I wouldn't have anything permanent in the open end. They have the scoreboard and the main gate there in Rochester. I would keep that open to allow for stage setup and maybe some party tents. This would also allow for modular bleachers for games that they expect big crowds(i.e. MLS Cup, US games, ect...). This kind of setup would provide 17-19k seats for MLS games and 22-25k for bigger games.

A roof might limit the amount of sun the field sees. Positioning the open end strategically would cancel out that negative effect.

The actual stadium shape would all depend on what other projects are associated with it. Most of the stadiums built for MLS teams were designed with continuity in mind for structural concerns. The only thing that would alter this trend is if some other building is built into the stadium or a corner of the stadium. However, DSG Park has seemlessly incorporated small buildings into it's design.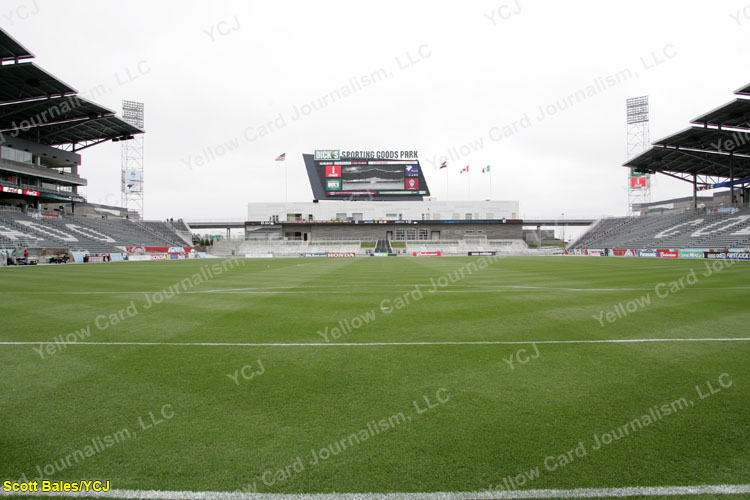 A stadium like I described would run around $80-100 million including the land. A roofless stadium would cost less. As I discussed in Part 1, this scenario is unlikely. Kraft would need a sweetheart deal to move his team from a stadium in a rural location that he owns to another rural location. Unless someone were to buy the team from him, it's probably not going to happen.